A non robots post! My friend Nathan, who is possibly more addicted to coffee than I am, and certainly more of a connoisseur, recently had a terrible experience – the handle on his coffee machine broke!
It is, I gather, a La Pavoni style lever machine, and this is the bit that broke: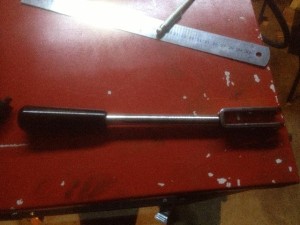 Tragedy.
You can see the shoulder at the end that's meant to be held in the yoke. It was originally pressed in, and over time the force of making serious coffee has obviously enlarged the yoke hole and loosened the handle.
Nathan originally thought welding the handle might be best, but I initially suspected it might be stainless, and then figured it was such a nice chrome job, it'd be a shame to mar it. So, plan B.
Grind the shoulder down just under flush with the yoke,  drill and tap into the shaft, and bolt it to the yoke.
This is how you hold round things when you don't have v-jaws:
Fortunately, it's a standard metric size – drill a 12mm hole through a block of wood, shove the bar through, voila, clamped enough. If I needed _really_ clamped, I could cut a slit from the end of the block to the edge of the hole, and then screw across the slit:
This may not be to scale.
This means I can grind the tip of the shaft off so it sits just under flush with the surface of the yoke, and then drill out the existing small hole, and tap it to accept an M5 bolt.
Trust me, that's what I did. The wood holds the shaft nice and solid and straight under the drill press – it's not a bad way of holding even square things to be sure they're true with the tap.
One last grinding job:
which results in:
Just enough thread to get to the bottom of the tapped hole
Good as new, I hope. Can't leave a brother without coffee….